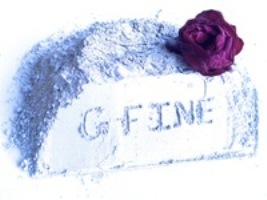 Ultrafine Cement Additive
Price And Quantity
Kilograms/Kilograms

22.00 - 28.00 INR
Product Specifications
Product Description
Description
G-FINE ULTRAFINE is a new generation Supplementary Cementitious material (SCM) with a built-in high tech content. It is processed based on high glass content with high reactivity obtained through the process of controlled granulation process results in unique particle size distribution. The raw materials are composed primarily of low calcium silicate based mineral additives.
Its latent hydraulic property and pozzolanic reactivity results in an enhanced hydration process. Addition of G-FINE improves the packing density of the paste component. In spite of its high fineness the results are in lowering water demand, admixture dosage and hence improving strength and durability parameters of concrete at all ages.
G-FINETM are observed in the concrete mix design, the initial rate of strength development was found to be increased or similar as other pozzolanic materials.
Application
§ Roads, Residential, Commercial structures
§ Producing mass concrete for raft and pile foundations
§ Low water to binder rations for high performance concrete
§ Better retention of workability and faster initial strength gain
High Strength construction work in low or high temperature weather
Benefits
· Increase compressive strength ,permeability, workability of concrete
· Improves the durability of concrete
· It can be used in waterproofing as an additive
· It can decrease the heat of hydration
·Resistance against saltwater & chemicals
· Non-Toxic, Eco friendly
· Cost effective, economical solution
DOSAGE
These goals are accomplished using cement pastes, mortars, and concretes with water-Cementitious material ratios ranging from dosage: 5% to 10% .The segregation of cement paste is caused by high super plasticizer dosages that do not cause segregation of concrete with the same water-Cementitious material ratio. Concrete containing G-FINETMas a partial replacement for cement exhibits an increased compressive strength because of the improved strength of its cement paste constituent. Changes in the paste-aggregate interface caused by silica fume appear to have little effect on the uniaxial compressive strength of concrete.
PACKAGINGS G-FINE
shall be packed and supplied in 25 Kg plastic bags/Customized packing is done if required in G-Fine brand. It is also available in Bulk Jumbo bags.
STORAGE G-FINE
when stored correctly has an indefinite shelf life. Like cement,
G-FINE
must be protected from contamination and moisture. The product can be stored in bulk in a clean, dry storage silo.
SAFETY INFORMATION / DECLARATION
Extensive testing has shown G-FINE to be non-toxic and environmentally friendly. No known significant health risks are associated with G-FINE but high concentrations of dust may cause irritation. It is recommended that suitable Protective clothing, gloves and eye/face protection is worn. In case of contact with eyes, rinse immediately with plenty of clean water and seek medical advice. The following information has been obtained from test results in an accredited laboratory. Although the information is accurate, variation in specific parameters might occur from time to time. No guarantee is therefore given or implied and GURU CORPORATION disclaims any liability from damage or consequential loss.